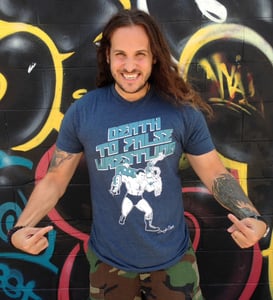 $

20.00 - On Sale
Ever since the release of the first DEATH TO FALSE WRESTLING shirt, people have had one burning question searing its way through their brains: What does "DEATH TO FALSE WRESTLING" mean? And the answer…
You know exactly what it means, and so does renowned illustrator, wrestling fan and cartoonist behind Marvel's Howling Commandos,Brent Schoonover, who drew this design of a hairy-chested, crusty, old, no-kneepads-wearing badass putting some geek in a torture rack. Also available as a high quality sticker!
Like all STRAIGHT SHOOT shirts, the DTFW TORTURE RACK shirt is small batch and limited edition – once they're gone, they're gone. Order today. You snooze? You looze.
The DTFW TORTURE RACK shirt is printed on a BLUE Next Level tri-blend t-shirt. It's a blend of polyester, cotton and rayon, which makes it super soft, light and breathable. The fit is very much like an American Apparel shirt, so if you're on the cusp, you might consider bumping up a size.
Order multiple items to save on shipping costs!