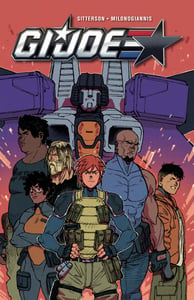 $

25.00
PLEASE READ THE FULL DESCRIPTION TO MAKE SURE YOU GET EXACTLY WHAT YOU WANT! THERE ARE NO RETURNS ON THIS CUSTOMIZED ITEM!
Limited to 50 units, this is a signed and numbered copy of The Crown Jewel of the Hasbro Universe's first collected volume. It's G.I. Joe Vol. 1, written by me, with art by Giannis Milonogiannis & Lovern Kindzierski.
Yes, it's cheaper on Amazon or your local comic shop. But this copy? This copy is signed & numbered, and if you give me the details below, I'll even personalize it and sketch you something with my meager artistic abilities!
Who it should be made out to. If no one…just say so!
Your G.I. Joe character
Shipping? Shipping is FREE. But the book is only available in the United States of America because shipping internationally is a pain and very expensive.
Due to the customized nature of these items, they will be sold nonreturnable.