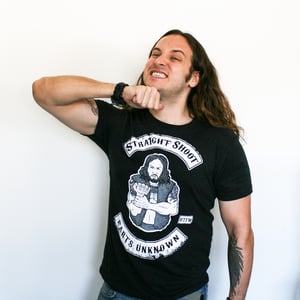 $

20.00 - On Sale
Cruising the highways and backroads. Making towns and popping territories. The World's Smartest Rasslin Fans hail from Parts Unknown, and they're nothing to trifle with. Show your colors with the STRAIGHT SHOOT ROCKERS t-shirt. Original art and design by Ramon Villalobos.
Like all STRAIGHT SHOOT shirts, the STRAIGHT SHOOT ROCKERS shirt is small batch and limited edition - once they're gone, they're gone. Order today. You snooze? You lose.
The STRAIGHT SHOOT ROCKERS shirt is printed on a black Next Level tri-blend t-shirt. It's a blend of polyester, cotton and rayon, which makes it super soft, light and breathable, as well as the highest quality STRAIGHT SHOOT shirt yet. The fit is very much like an American Apparel shirt, so if you're on the cusp, you might consider ordering up a size.
Order multiple items to save on shipping costs!